Now Available!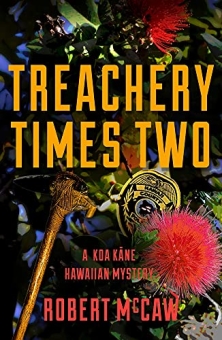 Treachery Times Two was named by Amazon as a Best Book of the Month in the "Mystery, Thriller & Suspense" category!
"McCaw ably blends police procedural, espionage thriller, and guilt-ridden personal saga. Readers will look forward to Koa's further adventures."
— Publishers Weekly
Secret military weapons, saboteurs, a volcanic eruption—and a probe of Chief Detective Koa Kāne's criminal past
On Hawaii Island, a volcanic earthquake disrupts an abandoned cemetery—unearthing the body of a woman mutilated by her killer to conceal her identity.
The search for her identity leads Hilo Hawaii's Chief Detective Koa Kāne to a mysterious defense contractor with a politically connected board of directors. Defying his chief of police, Koa pursues the killer, only to become entangled in an FBI espionage investigation of Deimos, a powerful secret military weapon. Is the FBI telling all it knows—or does it, too, have a duplicitous agenda?